Our latest chapter in life
My husband Patrick and I have lived most of our lives In New Mexico. We relocated to Honolulu, Hawaii in 2003 and have really enjoyed living and traveling the beautiful islands of Hawaii. Last last year we decided that it was time to start  the next chapter in our lives. We packed up and sold our beautiful home & purchased a 40ft. Motor Home. We shipped our car to San Diego and traveled with our dog Noelani to Santa Fe, New Mexico to pick up our Motor Home (RV).
We spent time parked at Isleta Lakes RV park just outside of Albuquerque, NM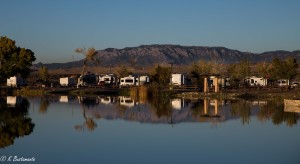 Looking across the lake at the park & the beautiful mountains.