Our 2017 travels got off to a slow start as we bought a new( to us) RV. It is a 2007 Monaco Executive, we went from 38 ft. to 44 ft. Since we live in it full time the 6 extra feet really makes a difference.
We left Casa Grande, AZ and went to San Diego to visit family. We have a new great nephew that we had to see and we love that area. Then we traveled to Petaluma, CA where we stayed at the Elks RV park. We wined our way around the beautiful wine country in Sonoma, Napa & Calistoga.
One of my very favorite winery's is the  Castello di Amorosa in Calistoga. It is a true castle with 107 rooms on 8 levels above and below ground, that cover approximately 121,000 square feet. The details and building techniques are architecturally faithful to the 12th and 13th century time period. Among many other features it has: a moat; a drawbridge; defensive towers; an interior courtyard; a torture chamber; a chapel/church; a knights' chamber; and a 72 by 30 feet great hall. We took the wine tasting tour and it worth every penny.
This slideshow requires JavaScript.
The next winery we visited was Francis Ford Coppola winery.
This slideshow requires JavaScript.
We had dinner on Tuesday night at what is called A Tavola. It is served family style, where the waiters come around to your table and serve you. The wait staff is dressed and act like a big Italian family. One is dressed in his pajamas carrying a prop cigarette,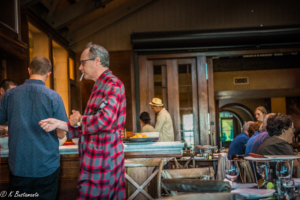 he said "I just woke up and did not know we were having company". Another member starts to play the accordion. It was so much fun and the food was wonderful, there were so many courses we lost count all for only $42.00 per person (not including liquor). 
The museum displays the beautiful Tucker car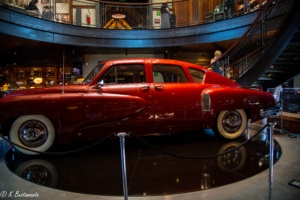 from the movie Tucker: The man and his Dream.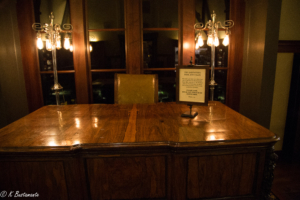 Upstairs is the Godfather's desk.
This next winery is the Ferrari-Carano Winery. The gardens were so beautiful.
This slideshow requires JavaScript.
The last two California winery's we visited were Cast Winery and Wilson Winery. They both had wonderful wine and beautiful vineyards. 
This slideshow requires JavaScript.
In our next post I will show all the wonderful places(other than wineries) we visited along the coast on highway 101.